Counter | Plymouth Art Book Fair : 4th Edition
March 17, 2018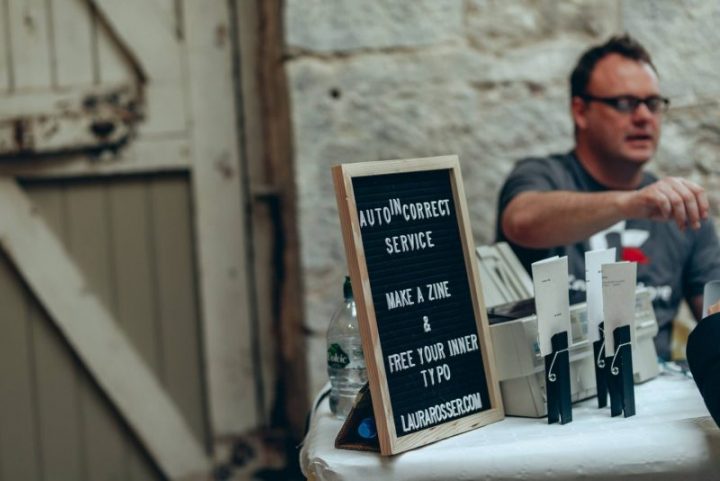 At Counter 2018 Laura's Auto(in)correct Service was selected for the book art fair in Ocean Studios at Royal William Yard in Plymouth.
The Auto(in)correct Service was much in demand as people sought to free their inner typo's!
"Are you frustrated by autocorrect? Hobbled by grammatical rules or the structure of every day, 9 to 5 typing? Then come along to the 'auto(in)correct service', a typing opportunity to develop creative, error rich texts and free your inner typos."
http://www.counterplymouth.com/exhibitors2018/laurarosser.html
http://www.counterplymouth.com/index.html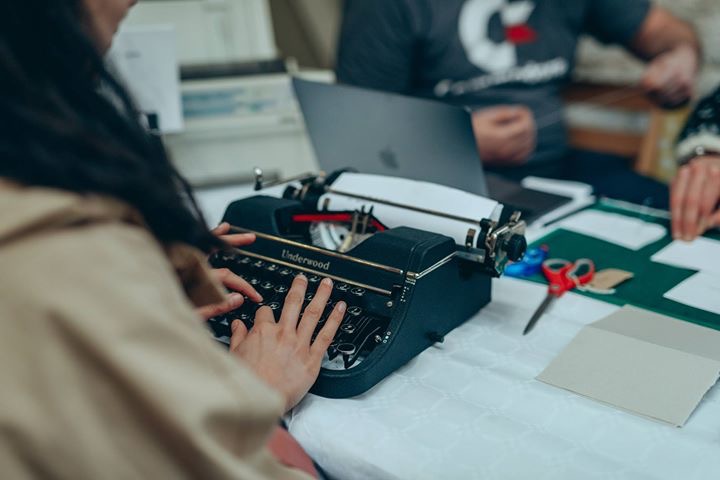 Counter: 4th Edition
Saturday 17th March 2018 at Ocean Studios
Counter returns for it's fourth art book fair to bring together artists, photographers, illustrators and publishers in Plymouth. This year's event will be held at Ocean Studios and includes exhibitors from Denmark and Italy in addition to artists from across the UK and many based in Plymouth or the South West.
Counter is a nomadic programme of events arranged by three artist-organisers who started working together in 2014. They have since run three book fairs, workshops and a live performance event and were featured in Kevin Hunt's 'Artist-led Hot 100' published by a-n, the Artist's Information Company in 2017.
This year's art book fair will showcase 37 tablers making a range of unique publications and limited editions ranging from artists' books, zines and comics to photo books, catalogues and illustrated poetry. The event has also been sponsored by UK paper smith, G.F Smith, who will be at the event showing their range of paper.
Exhibitors
Analogue Collective  Antler Press  Artist Tea Towel Company  As Yet Untitled  Atlantic Press Books  Benjamin Wright  Bristol Brunswick Fig  Clare Rogers  Close and Remote  Daniel Lehan  Elena Brake  Foreground  Fotonow  G.F Smith  Guy Bigland  H G makes  Impact Press  J. R. Carpenter  Jessica Wright  KLD Repro  Laura Rosser  Makina Books  Mark Pawson  Matthew Kay  Midnakit & Plymouth Zine Library  Plymouth University Illustration  Pirrip Press  Pylon Press Rachael Jenkins  Rhys Morgan   Semple Press  SHAPE OF ACCESS  Sister Sister STANDINGFRAME18  TAZI ZINE  The Art Vending Machine  Uniformbooks
Programme
With support from Arts Council England programmed guests include:
Alexandra Higlett and Georgina Hounsome – Alexandra and Georgina will talk about Pirrip Press, their design/publishing company and shop in Bristol.
Daniel Lehan – Daniel will perform 'I Am A Square', a sound text piece comprising words, poems and songs performed on two battery powered child's Alphabet Desks, referencing Dada sound poetry and the artist's own performance at Cabaret Voltaire, Zurich.
Makina Books – In the week leading up to Counter, Makina Books will be presenting pages from Flo Brooks' Outskirts publication in the cafe/gallery. At the book fair Robin Silas Christian (Makina Books) and artist Flo Brooks will discuss Outskirts and Makina as an ongoing project and archive.
Outskirts can be visited during normal cafe opening hours: 13th-18th March; Tues/Wed 9am-4pm, Thurs-Sat 9am-5pm, Sunday 10am-4pm.
Getting to Counter
For directions from the city centre, train and coach station visit
https://goo.gl/maps/NCmcV5NvEUu
Please note that Ocean Studios is just over 30 minutes walk from Plymouth railway station, coach station and city centre.
Wheelchair access – This year's event is in two spaces on the first floor. A lift for wheelchair users is just inside the door nearest to the red telephone box.
Refreshments
On the ground floor the Ocean Studios cafe serves proper coffee and delicious food and cakes from the Column Bakehouse.
Social Media
Get involved with #Counter2018 via our Facebook page, Twitter, Instagram or Eventbrite.
Image: Counter 2016. Photo: Dom Moore